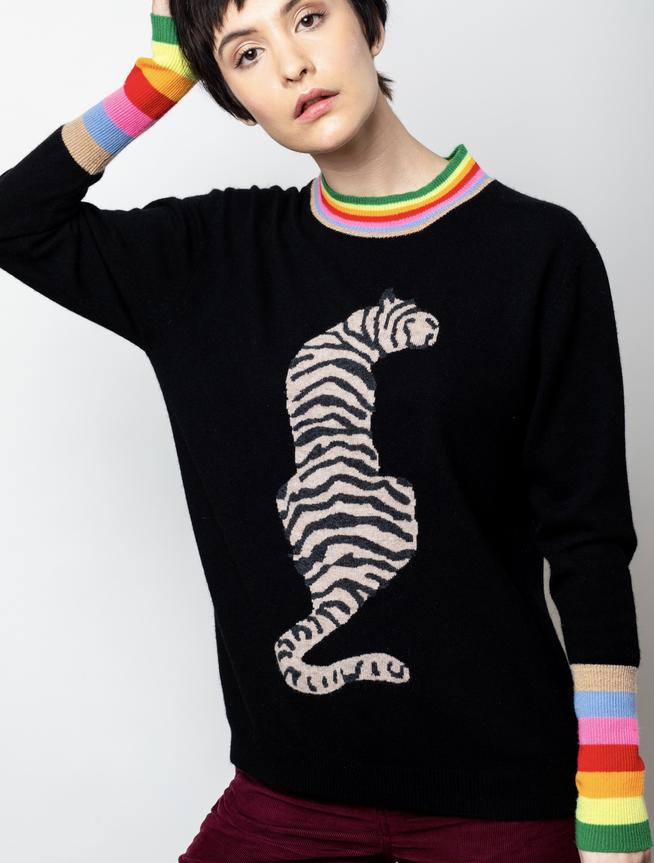 Orwell + Austen
Jessica Schuhle-Lewis founded Orwell + Austen in 2012 with a mission to create beautiful, and playful cashmere pieces, focused on environmentally conscious, ethical and sustainable production.
Jessica's background was in law, but having worked in the corporate sector for several years, she felt her creativity was being stifled so she embarked on a side project which she hoped could one day become her full-time job. As with any career change, she was well aware that it would be tough and that it might likely fail, especially going from something so disparate - from law to fashion. But Jessica figured that even if the brand was not successful, this side hustle would give her the opportunity to nurture her creative side as well as enabling her to learn new skills, which could help her in any creative field. And so Orwell + Austen was born.
"The corporate world was still very traditional and there wasn't much room to be expressive with how you presented yourself. So Orwell + Austen started with my drive to be more creative. The range was focused on scarves to begin with. I wanted to have a lovely quality cashmere scarf, in a vibrant print, that I could wear with a suit." After the scarves were a hit, Jessica continued to develop the brand and expanded the range to include knitted clothing, and organic cotton printed pieces. As the brand has evolved over the years, Jessica's trademark bright, statement, cashmere sweaters have become the central focus, and have been worn by a number of celebrities, and fashionistas all over the world.
Brand philosophy

To create wearable, special, contemporary pieces from high quality natural materials, sourced in an environmentally conscious, ethical, and socially responsible manner. Elevating classic shapes, with playful colours and detailing.

All Orwell + Austen pieces are made using the finest grade natural fabrics. Knitwear is created using yarns which have a lower environmental impact than pure cashmere - such as recycled 100%, and cashmere, cashmere and fine wool blended yarns. The brand also produce a range of GOTS standard 100% organic cotton printed t-shirts and sweatshirts. Orwell + Austen works closely with its carefully selected manufacturers to ensure that each and every piece is finished to the highest standard, with care and attention going in to every detail.
The desire through the collection is to create fresh and inventive luxury fashion pieces, to be loved, worn, and admired for a lifetime.
Producers
All Orwell + Austen knitwear pieces are made in Nepal, a region renowned for producing some of the finest cashmere and knitwear in the world. The brand works collaboratively with a small, ethical, family-run producer in the Kathmandu valley in Nepal, who specialises in creating hand knitted sweaters using traditional techniques.
From the outset the brand ethos has been to utilise the skill, expertise and craftsmanship of these Nepalese artisans to bring exceptional quality cashmere knitwear to the global fashion market, whilst ensuring that the people who make our pieces are paid fairly for their skill, expertise, and craft.
Want to shop directly from Jessica? Hit the SHOP NOW button below.